"TREAT your stuck-at-HOME co-WORKERS to A restaurant LUNCH, cocktail or dinner.

&

SUPPORT YOUR TEAM, YOURSELF AND THE food service industry!"
TIPPR connects restaurant suppliers with restaurant entrepreneurs. We do this by using Social & Digital Selling tools, such as the TIPPR app. Because the foodservice industry is closed to guests and suppliers work from home, we as TIPPR want to continue to connect everyone during this time and have therefore started the Samen Lunch Challenge. Because together we are stronger!
The challenges we face!
This is a very difficult time for both restaurant entrepreneurs and suppliers. Many companies have had to close their doors and change their business model to delivery. There are 3,5 million employees working from home daily and they are missing the contact with their employer and other colleagues. That is why we must join hands and work together. Everyone can use a boost.
We challenge you!
Restaurant entrepreneurs and suppliers can use a boost, because both groups have lost considerable turnover. Now is the time for companies to join hands and help the foodservice industry. If companies take the initiative to embrace this challenge, the rest of Europe will follow:
HOW DOES IT WORK
1. Register via www.samenlunchchallenge.nl
2. Order a lunch, cocktail or dinner at a delivery restaurant for your team, colleagues or friends
3. Post this on your Facebook, Instagram or LinkedIn (tag your team and @ TIPPR.NL) and mention the website www.samenluchchallenge.nl
4. Tag 3 employees at other companies and challenge them to do the same
5. Use #SAMENLUNCHCHALLENGE to support the food service industry
Do you also want to participate?
Fill in the form below and receive the challenge guarantee so that you participate in this official challenge. Don't forget to tag us so we can collect the photos. We ensure that your logo is included.
[activecampaign]

By participating you not only give your employees a helping hand, but you also support the entire foodservice industry!
Where should you order lunch, cocktails or dinner?
We don't want to limit anyone in their choice of where to order lunch or diner. You can order at any location that is open for delivery and/or take out. Therefore, you can choose whom you order from and help your favourite restaurant/coffeebar/etc.
There are also restaurants who have set up the delivery themselves. Therefore, do not hesitate to contact them yourself.
HORECA CAN PARTICIPATE WITH A VIDEO
As a foodservice entrepeneur you can also challenge companies in your network to participate in this challenge!
By taking this up in your network you can ensure that lunches or dinners are ordered with you. You can use the script below as inspiration for your video or post:
Video Script
Normally guests come to our restaurant.
With the Samen Lunch Challenge, the restaurant industry now visits all home workers.
Show home workers that you are thinking about them. Support them with a delicious lunch or dinner from the restaurant industry.
If you order this with me, we get the chance to now visit YOU!.
I am joining the #SAMENLUNCHCHALLENGE , will you do so too?!
I hereby nominate @ <employee name> @ <company>, @ <employee name> @ <company>, @ <employee name> @ <company> to also treat their team, colleagues or friends to lunch or dinner.
If you are nominated, you can also nominate 3 employees at companies to do the same.
Together we are stronger!
Why participate?
We are aware that everyone is faced with declining income. During this time we see that the foodservice industry is taking initiatives to make a difference. Make sure that you also become part of this, take good care of your employees! After all, our biggest problem in recent months was a shortage foodservice personnel!
Show the outside world that you have a warm heart for the restaurant industry
Put the restaurant industry (your own customers) in a scoring position
Show good employment engagement
Use opportunities to collaborate with restaurant entrepreneurs through product samples
Thank your team for their efforts during this difficult time
"YOU DO NOT ONLY HELP YOUR TEAM BUT THE ENTIRE foodservice industry. TOGETHER WE ARE STRONGer!"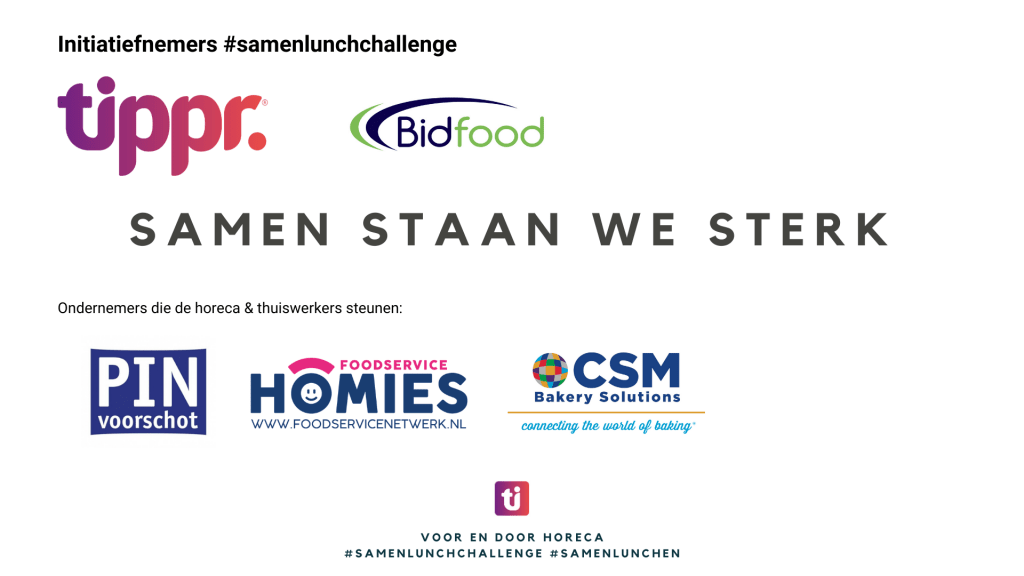 ---